Gold Filled Beaded Bracelets
Share
Classic. Simple. Durable. Pick your bead size. Comes in 2.5MM, 3mm, 4mm, & 5mm.
Dress it up or down. Stack them with your favorites or wear alone. Whatever you have in mind, this beauty can handle it! Not made with stretchy material, but with stainless steel wire to last with you on your adventures.
Gold Filled Beads

Stainless Steel Wire

Gold Filled components
Size:
6-7 inches (standard length)
7-8 inches 
*The bracelet itself will be the smallest inches, but with the adjustable extender at the end will make it up to the biggest inches available. Example: 5.5-7 inches. The bracelet itself will be 5.5 inches. The extender at the end of the bracelet will make the bracelet 7 inches long in total. Making it adjustable between 5.5-7 inches. 
Everything is made with GOLD FILLED. What is Gold Filled? 

The core is jewelers' brass, but has real solid gold pressure bonded around it. It has the same characteristics as solid gold, but fraction of the price. It has 100 times more gold than gold plated items and does not tarnish like gold plated. Please refer to our "Sizing/Jewelry Care" page for proper care and size.
Due to monitor differences, color may vary slightly.
Regular price
Sale price
$56.00 USD
Unit price
per
Sale
Sold out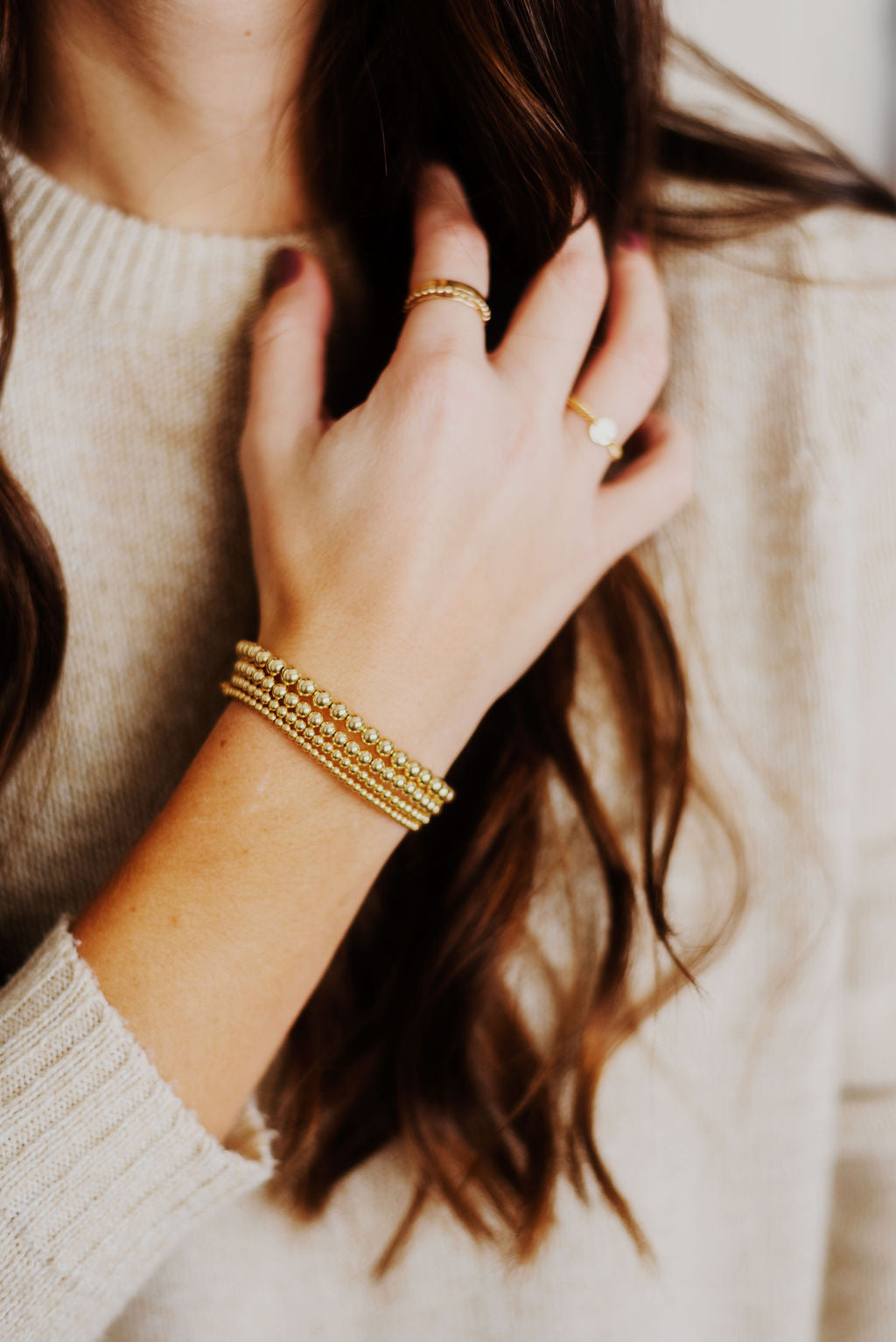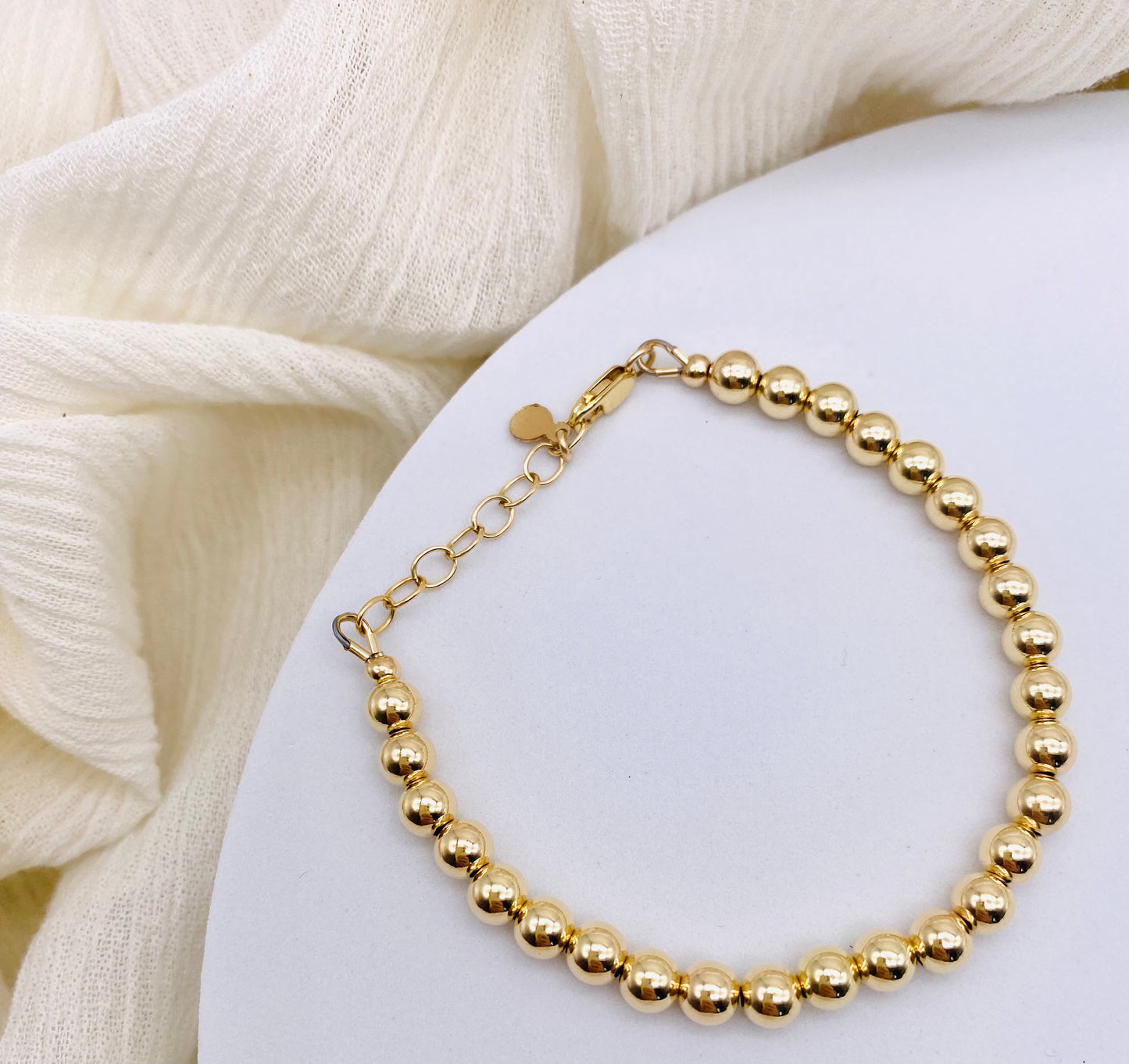 Great!
My daughter loves her bracelet! Thank you!
Jen! Thank you so much <3333 Love hearing that!
Lovely & Simple Everyday Jewelry
I'm a little late to write a review... but I bought this bracelet 3 years ago and I have never taken it off, and it hasn't tarnished or faded! I get compliments on it all the time, and with my wedding coming up in October, I will be adding more to the stack as my wedding jewelry! In love with all of Kono & Co.'s pieces!
Aleksandra!! THANK YOU for loving our pieces so much to have it a part of your BIG DAY. Early Congrats to you <3333
Happy gf :)
Big thanks to Kono & Co for helping me find the ideal birthday gift for my significant other. The bracelets were a hit, and she's been wearing them nonstop. Can't wait to explore your new products in the future!
Nicholas! Thank you for trusting Kono & Co. for theeee perfect gift. So glad she is loving them. Keep checking back for some new arrivals <3
Seriously Amazing!
I bought one of these bracelets about 6 months ago. I have not taken it off and have worked out and showered with it on and still no tarnishing. The quality is absolutely amazing and priced really well, especially when considering its durability. This is jewelry I whole heartedly believe in and will continue to buy (and give as gifts). Love!
Grace!! Thank you for leaving this wonderful review and for supporting my business. SO glad you are enjoying your piece. It is such a timeless class piece <333
My Daily Bracelet
I remember this bracelet was one of my first purchases that I made from Kono & Co. I fell in love with the simplicity! I think it's been over two years now and still wear it daily! I have at least one if not two pairs of jewelry pieces from each of their collections! I'm a huge fan! It all started with this bracelet! Everything is durable and looks like I just purchased it!
Veronica! Thank you for taking the time in leaving this review. So glad our paths crossed and thank you for all the support within these years. <3
Let customers speak for us